July/August Intercom Features and Content
Our July/August double issue of Intercom is out now. On our cover this issue, a view from Skellig Michael taken by Bishop Fintan Monahan. It was described by playwright George Bernard Shaw as 'the most fantastic and impossible rock in the world … The rest of the Cathedral may be under the sea.'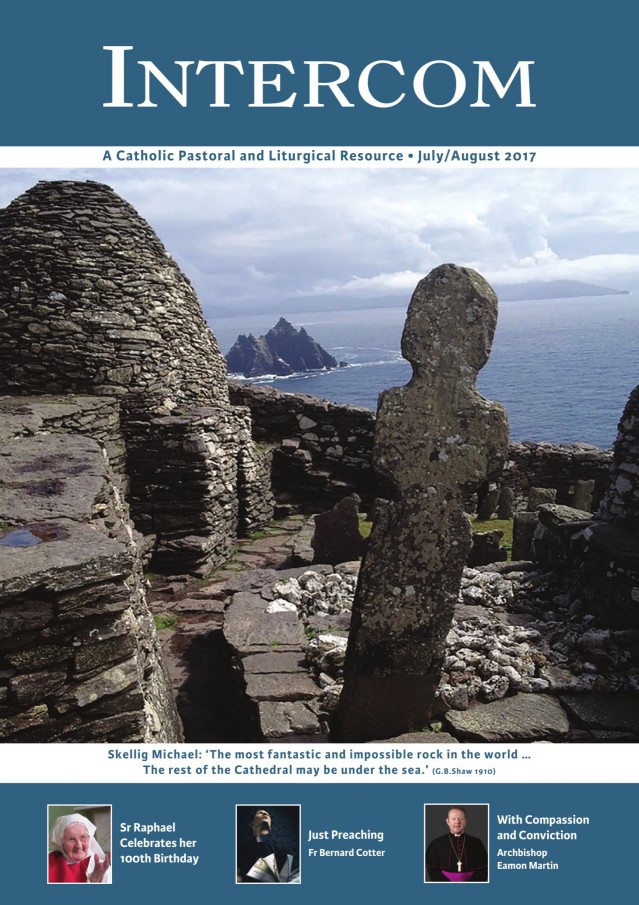 In our new issue, Monsignor Réamonn Ó Muirí details Saint Oliver Plunkett's 'Life of Continuous Sacrifice', Father Bernard Cotter writes on 'Just Preaching – The Essentials' and Ken Ryan takes us through 'Ireland's Stained Glass Heritage'.
We also hear from America magazine's Leah Libresco on the changing Church in America, Dr Nicola Brady on an international delegation to Columbia and Archbishop Eamon Martin on the importance of public speaking, along with all our usual prayers, reflections and resources for the months of July and August.
    Click here to see the full contents page of our July/August issue.
    Featured articles
  •  Editorial – God Writes Straight on Crooked Lines
  •  Just Preaching – The Essentials
  •  Saint Oliver Plunkett – A Life of Continuous Sacrifice 
    Resources
    Newsletter, Irish Mass and Family Mass Resources for July are available here.
To Subscribe
There are two ways to subscribe to Intercom.  For information on online and digital subscription click here.  Alternatively, the membership secretary, Mr Ross Delmar, can be contacted at Veritas House, 7/8 Lower Abbey Street, Dublin 1, by telephone +353 (0)1 878 8177, and by email ross.delmar@veritas.ie.
Current subscribers can contact the membership secretary to gain full access to the website.